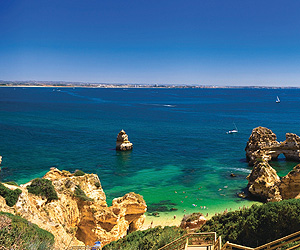 22 Jun Amazed by the Algarve: An all-round adventure in Portugal's holiday paradise
Donal Lynch ranges from Albufeira to Silves, from delicious food to dolphin encounters, in Portugal's sunny Algarve.
For most of my life I had lived in mortal dread of resorts.
I always thought I would be bored to death without the on-tap mischief of a metropolis close by. My milky-pale hide is not really suited to lounging by a pool.
The famous Brit v German sun-lounger territorialism also seemed like more than I could bear. For all of these reasons I had never been on a package holiday, and harboured the vague suspicion that resorts were better suited to families & old people than kidult degenerates like me. These things are also generally sold in one-week packages, which is longer than I've taken off in years.
Recently, however, I'd begun to ponder the possible benefits of the all-in-one package. I've grown tired of arriving back from holidays more exhausted than when I left. And perhaps its early onset middle age, but the idea of a pool, a tennis court and a beach all within a stone's throw of my room seemed a better deal than tramping around some sweltering city looking for a decent breakfast. I've also been beaten into submission by my friends' holiday snaps on Facebook. If they can handle a relaxation bubble, then surely so can I. They deserve to be just as jealous as I generally am.
The Algarve
The Algarve, with its reputation as a more cost-friendly alternative to the French Riveria or the Amalfi Coast, seemed a good place to lose my resort virginity, and Albufeira, where I travelled with my boyfriend in May, seemed like a good mix of beach bars serving cocktails with sparklers and off-the-beaten-track beaches for us to sleep them off. I had also been told that it is a great base for exploring the rest of the sun-kissed Algarve. We hadn't been away together since last summer and since he had recently passed his accountancy exams – drawing one step closer to the day where he's rich enough that I can settle into the role of trophy husband – we were definitely overdue a celebratory jaunt.
Sunway have charter flights going to Faro airport from Dublin and we arrived at a very reasonable time of the afternoon. This definitely helps the holiday feeling better than some nightmare early-morning flight. They lay a coach on from the airport, so it couldn't be easier; the journey from Faro to the resort took no more than 40 minutes. We stayed at the Alfagar resort on the edge of the town.
Accommodation
The resort itself is beautifully landscaped and very family-oriented. There was a large contingent of Irish people when we stayed (the sight of people even paler than me by the pool did wonders for my self-confidence). I never thought I'd be able to bear other people's children on holidays but these were well behaved, and, in fact, the sound of kids frolicking in the pool brought back memories of being a kid in Spain in the 1980s.
Alfagar has several gorgeously landscaped pools, an astroturf football pitch – very popular with the Irish Dads – and two pristine tennis courts (although no coach – the golf village right across the street can sort you out if you like to play, however). The apartments are cleaned three times a week, and the towels and toiletries are also changed then. I would recommend bringing your own supplies, because with the heat and the pool you will probably need them. It's a good idea to check in with the Sunway reps – they have regular meetings at the resort – as they can fill you in on local attractions. This might seem unnecessary when you've just arrived, but in the case of watersports, for instance, there is a bewildering array of activities, and some guidance from someone on the ground goes a long way.
Alfagar Beach
Our own apartment was on a roof – mercifully not overlooked at all – with a view out to the pool and, beyond that, the beach, which could be reached by a beautiful little stairwell. This is without doubt the biggest selling point of Alfagar, as the beach had barely a scattering of people on it at any time. It was quite something to pull back the curtains in the morning and see that waiting for you. I also swear by apartment holidays now. It's much more relaxing & far cheaper to just fix yourself a light breakfast & then head off for the day than to spend ages faffing around a hotel, looking for somewhere to sit.
The staff in Alfagar were also incredibly friendly, which was a great plus. The whole town is so tourist-focused that you don't need a word of Portuguese to get by. They will smile indulgently if you say 'obrigado', however.
The weather itself was sunny every day we were there and climbed up to about 25 degrees during the day, dropping to what I call 'hoody temperatures' at night. This made it quite pleasant for sleeping, giving us some relief for our outrageous farmer tans. It does get quite a bit hotter during July and August however.
Albufeira
In Albufeira itself, the tourist areas are divided into two main areas, Areias de São João, known colloquially as 'The Strip', and the 'Old Town'. The Strip's main street is Avenida Francisco Sa Carneiro which is full of bars, restaurants and open-air clubs. The town is completely centred around tourists – any locals you meet are likely working there in some capacity.
There is an enormous British contingent in the town, and I noticed several businesses that offered the option of people paying in sterling, with Union Jacks fluttering in the breeze. The crowd was slightly older than the music and vibe in the centre of the town might immediately suggest; it is very buzzy and quite a few people brought their children out at night with them. We did the obligatory searching for restaurants on Tripadvisor, but mostly just followed our instincts and found the food to be generally excellent.
Eating Out
The Algarve is famous for fish and the incredible octopus salad and sardines drizzled with olive oil and garlic, which I enjoyed in several places, would seem to be reason to return in itself. There is also an amazing local culinary specialty of a rich steamed stew dish of local shellfish, traditionally referred to as Cataplana (named for the cookware used in its preparation), which is a well known dish all over the Algarve. Generally speaking you're talking about €80 for a three-course meal for two, even in one of the tourist trap restaurants.
Sightseeing
I'm generally not one for sightseeing on holidays, but perhaps a latent desire to look at old ruins (as I become an old ruin) is another sign of creeping middle age. Among the Algarve's cultural highlights, perhaps the most extraordinary is the hilltop town of Silves, with its castle, the turrets and castellations of which encompass an area bigger than a football pitch. Mainly built between the 8th and 13th centuries, it reflects the fascinating history of Portugal's occupation by the Moors (Algarve comes from Arabic 'al gharb' meaning "the west"). We rented a car to travel here and enjoyed lunch in the restaurant at the castle, which was excellent.
The car was also handy for exploring the wider Algarve – I would certainly recommend booking in advance, as with most of the companies the price did seem to climb up as we got closer to our arrival date. I would also recommend that the one driving isn't also the one with the sense of direction – as my boyfriend had to endure the nerve-wracking experience of right hand driving for the first time with me offering essentially useless directions from the passenger seat. Once you've got that together, however, there are also a number of incredible hiking, biking and horse-riding trails that are easily reachable by car.
These include the Rota Vicentina long-distance footpath which runs from the tip of the Algarve, at Cape St Vincent, to Santiago do Cacem in neighbouring Alentejo; and, perhaps most famous of all, the Ecovia cycle route along the entire south coast from Sagres at Cape St Vincent to Vila Real de Santo Antonio on the Spanish border.
Further Afield
Away from the hustle and bustle of Albufeira itself, the Algarve is studded with absolutely spectacular and mostly deserted beaches. The best of these we found was in an area called Almancil. You can almost start to detect the whiff of money in the air as you pull through the little town, which nestles close to the exclusive beach and golf resorts of Quinta do Lago and Vale do Lobo, a few kilometres down the road (The Algarve is pure heaven for golfers.) It's a gorgeous holiday destination in its own right, teeming with high-end restaurants and stylish boutiques which attract well-heeled visitors from around the world.
This was really as far from Albufeira as we ventured, but if you're feeling up to it you can get to Lisbon in five hours – which seemed tempting until we got ensconced in relaxation at the resort – and Seville in Spain in about two-and-a-half hours. Beware that many of the local tours are not for people who enjoy epic lie-ins; we found that the boat tour operators shut up shop for the day around 2pm, for instance. The early bird gets the paddle surfing, seemed to be the motto.
Family Excursions
If you can get up in time, try the Dolphins Driven tour (+351 913 113 094); you basically kayak among some caves where dolphins swim and, as long as you have some basic kayaking skills, it's pretty magical. There is also a huge water park – great if you're travelling with kids – and a sea world-type theme park very close to Albufeira.
Despite my scepticism, in the end, a week seemed just the perfect length of time to be away. You arrive & get slightly overenthusiastic with the wine top-ups, then you've a day or so of recovery and then, just as you come through that, you realise that through some miracle you're still on holidays! Albufeira opened my eyes to the wonders of resorts & brought home to me, through the medium of poolside cocktails & beach views, that I secretly am a resort person.
And for the first time since I was a child, I arrived home from my holiday with that curious feeling of actually having been on holidays.
Getting there
Donal travelled to Santa Eulalia, Algarve in Portugal with Sunway. He stayed seven nights in the 3* Alfagar 1 Village in a one-bed superior sea view room on a self-catering basis. Holidays to the Alfagar 1 Village start from €779pp. Package holidays with Sunway to the Algarve start from €399pp in 2* apartments and from €689 for the 4* Jardim Do Vau Aparthotel. Packages include flights, 7 nights hotel on a self-catering basis, transfers, 20kg baggage and services of a Sunway representative. Price is per person & subject to availability. Call Sunway on 01-2311800 or visit www.sunway.ie. Offers valid at time of publishing.
Take three: Top attractions
Loule Market
There are markets in every town and village across the Algarve. However, probably the biggest and best market is at Loule. Even the building is one of the most arresting around. Resembling a bazaar, the red & white turretted building houses a typical Algarve scene of busy stalls selling all types of produce, spilling into the streets all around. Noisy, smelly and great fun.
Maria's, Almancil
I don't want to oversell this, but it is the best fish restaurant I've ever eaten at in my life. Light and sweet octopus salad, gorgeous salmon, melt-in-the mouth tuna carpaccio, perfectly fried calamari, the list goes on. As a bonus, it has spectacular views out over the ocean, making it the perfect location for a pre-lunch swim, sundown cocktails & anniversaries.
Dolphin Emotions
Did you know, the Algarve is the only place in mainland Europe where you can actually play in a pool with dolphins? At Zoomarine theme park you can take part in the Dolphin Emotions programme. A briefing & education session, one-on-one time in the pool with the dolphins and great photo & video memories of your experience.
Credit: Donal Lynch, Sunday Independent Living
Published 13/06/2016