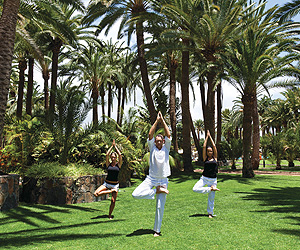 20 Jun Gran Canaria: Where workaholics can forget about the manic world
Gran Canaria – Perfect Rejuvenation
Constance Harris, Sunday Independent Fashion Editor, is whisked away from the nine-to-five on a glorious Canary Island of Gran Canaria.
Was it the long, hard winter? Was it the long, hard fashion season?
Whatever it was, this fashion editor was feeling vitamin D deficiency and needed a holiday. One that could deliver in seven days what needed to be done in 21.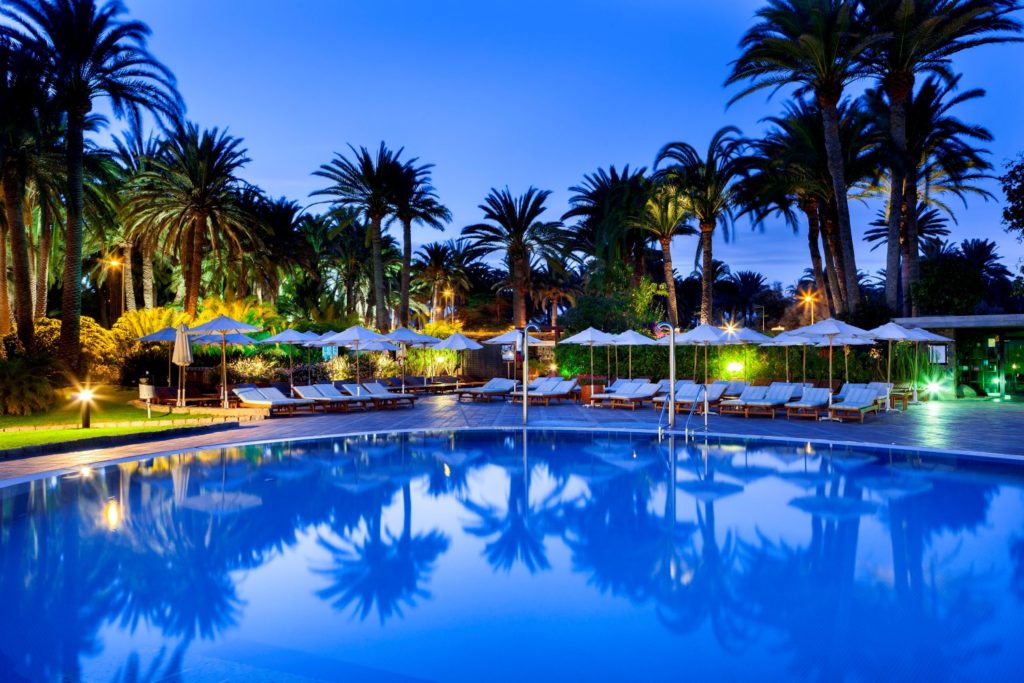 The saltwater pool at the Seaside Palm Beach Hotel in Maspalomas
Having been to Gran Canaria a few times before, but a long time ago, I knew it was a place that was easy to holiday in and that the local people were friendly to tourists (that has not always been my experience of sun destinations).
So having decided I needed a holiday, I then realised I didn't want to go on my own. So, I asked one of my best pals, who had just enjoyed a significant birthday, would she like to join me? Not a woman to hold back, she instantly said 'yes' and started shopping for sun dresses.
Being a total commitment-phobe, the moment she agreed to come on holiday immediately kicked off an internal anxiety dialogue in my head. How would we get on, sharing a room together for a whole week? I have had (and seen many) break-ups on so-called holidays. I didn't want this to be the end of one of my best friendships.
As if she could read my mind, my pal said to me it was possible we would fight all the time and want to kill each other, and that was normal. My neurosis relaxed. Her husband, a smart-arse, told me to pack earplugs.
I never needed them – so there, you traitor.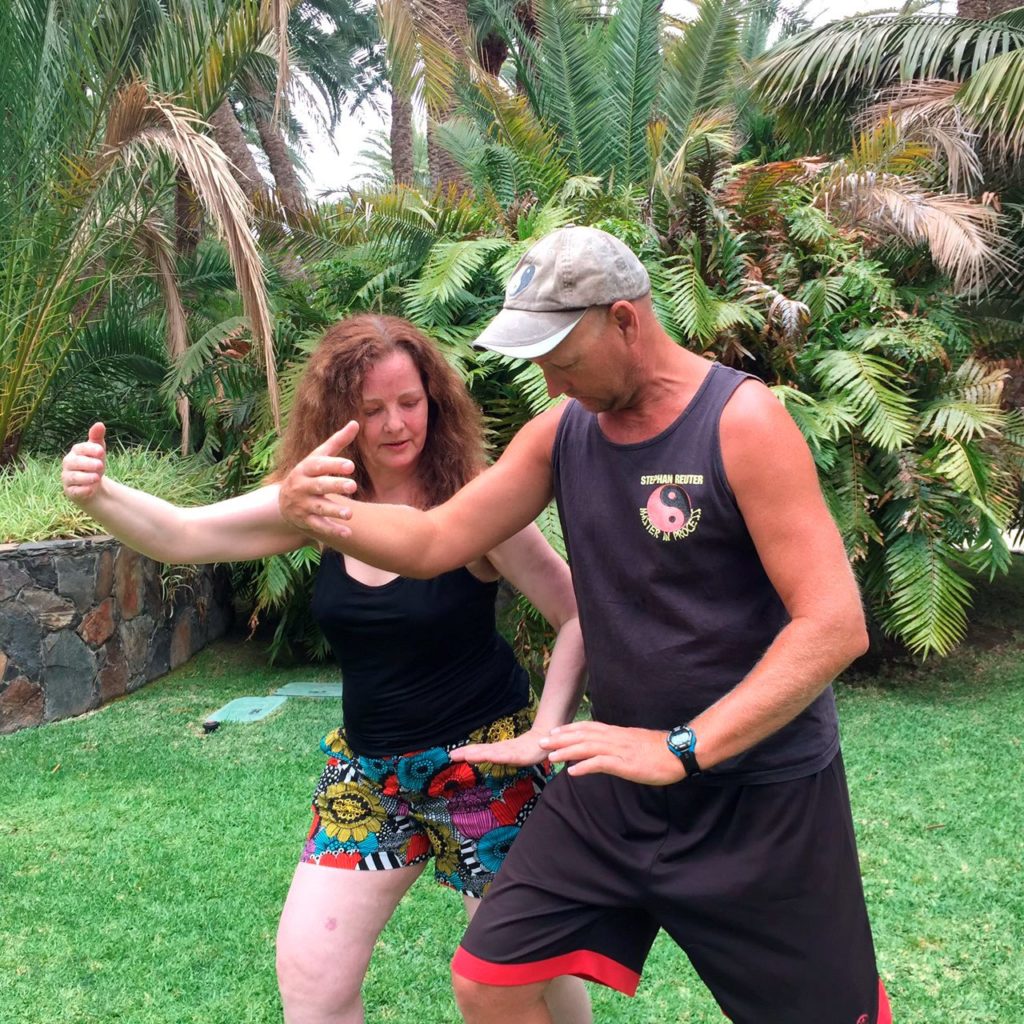 Constance receives lessons in Tai Chi from Stephan Reuter.
Gran Canaria Sun Holiday
Holidaying in Gran Canaria is not about designer labels, staying in 'it' places and dropping names. Gran Canaria is a modest place, full of warm, friendly people. In fact, when I boarded my flight home after my week on the island, I found it deeply depressing to see again all those neuroses-focused celeb magazines.
For the short, but oh, so relaxing, week I was in Gran Canaria, this workaholic totally forgot about the manic world she had left behind just a few days before.
That is the magic of Gran Canaria island and its lovely people. It was also largely due to the great hotel we stayed in.
Sunway are specialists in package holidays to the island. I have travelled with them many times before and have always had good experiences. If I needed a really good rest, they advised me, I should stay in the Seaside Palm Beach Hotel in Meloneras, Maspalomas.
Seaside Palm Beach Hotel
The Seaside Palm Beach Hotel is a five-star hotel with a spa, several pools and is just a stone's throw from the beach and the Atlantic Ocean. It's a five-minute walk from Gran Canaria's famous sand dunes (which have camels on them) and to the area's landmark lighthouse, Faro de Maspalomas, which will always guide you home safely.
From the lighthouse, there is a promenade that runs for several miles, with quality clothing stores, restaurants, bars and street performers on one side and the ocean on the other. In the evenings, as night comes in, it is a lovely place to amble and idle away the hours.
The Palm Beach Hotel was built in the 1970s, thus the rooms are generously sized. There were lots of internal spaces, as well as lush green grounds and several pools – including a seawater one – and a spa.
To our delight, being Irish and being massive tea drinkers, there were tea and coffee facilities in the room. There was a turndown service every night. Everywhere, the staff were exceptionally helpful and friendly.
Meal Plans
Through Sunway, we were on a half-board basis; breakfast, and then we could alternate between lunch and dinner. All meals are served outside in the hotel's garden terraces.
Breakfast was a truly epic affair – anything you could possibly want was available. The dinner experience was like something from a Michelin Star restaurant and they catered comprehensively and creatively for vegetarians.
Though the Seaside Palm Beach Hotel has a children's club and designated pool and play area for them, there were very few children staying in the hotel the time we were there. In fact, it was a very adult affair, which definitely contributed to our restful experience. The hotel organised a barbecue dinner about twice a week, so if you are a serious carnivore and love your 'surf and turf' then this night is for you. Truly, I have never seen so much lobster consumed in one night.
The Seaside Palm Beach Hotel is German-owned, which means everything works and is of excellent standard. No surprise then that there were a lot of German people staying there. John Cleese's 'Don't Mention The War' line soon became a theme of our holiday – brought up, not by us, but by the Germans themselves.
We noticed another big change in the Germans – they didn't hog the sun loungers by placing their towels on them at 6am.
Tai Chi
One such funny-about-themselves German man was the hotel's Tai Chi and Yoga instructor, Stephan Reuter. Stephan's Tai Chi classes, at 11.30am each morning in a shaded, leafy garden, gave focus to our holiday. And fun. Quickly, we established a routine of: 7.30am, walk the beach in the cool morning air, or go for a swim; 9am, stuff our faces at breakfast and watch all the couples, gay and straight (to notice who is not talking to whom, who might be a second marriage and other such gossipy delights); 10am, go back to bed for an hour to digest said stuffing; 11.15am, get ready for Tai Chi.
Stephan was an excellent teacher, or 'master in training', as he called himself. For the pay-off, if he felt we had focused properly on the Tai Chi class – and that we were a good audience – he would, at the end, tell us funny anecdotes of German life.
And so, our holiday life fell into a pattern of activity and rest. We treated ourselves to some luxurious treatments in the hotel's spa (see Highlights) and went on a few sightseeing tours, having been well informed by our Sunway Destination Manager, the wonderful Amanda 'Mandy' Curley.
Out and About
Gran Canaria is a volcanic island just 80 miles or so from the coast of West Africa. It is largely mountainous, which, if you are up to heights and winding roads, makes it fantastic fun to explore by car or on a tour (you could cycle it, I guess – if you were mad.).
There are many walking trails or hiking groups to traverse parts of the mountains – and no snakes, scorpions or poisonous spiders to be worrying about on the ground (I can be a bit neurotic myself about those things).
All over the island there are stunning views of the gorgeous landscape: sheer cliff tops over the sea; picturesque mountain villages; and ancient cave dwellings, many of which have now been turned into hip homes, to discover. If you don't want to drive, there are excellent bus services on the island.
We found Gran Canarian people tend to speak German as a second language (I am saying nothing more on the Germans). English comes next. So, if you don't speak Spanish or have a dictionary handy, expect to get good at sign language. Mandy told us that, in the winter, Swedish people arrive in their droves – which is mainly the result of their government giving incentives to senior citizens to get out of the country during the severe winters there. What an incredibly intelligent idea.
Las Palmas
Las Palmas is the capital city of Gran Canaria. It has beautiful and varied architecture and is Spanish in look – though not so much in feel. Gran Canarians are their own people and don't seem that 'Spanish' to me. The city supports two opera houses (during the winter), theatres, several museums and a very beautiful old quarter, called Vegueta, that dates back to the 14th century. Soon, it will have the largest aquarium in Europe as planning permission has just been granted.
A big claim to fame for the city is that Christopher Columbus once stopped there to make repairs to his ship before sailing to America. The house he stayed in, Casa de Colon (casadecolon.com ), is in the old district of Vegueta and is now a Christopher Columbus museum.
Around the corner is the beautiful-for-its-simplicity Santa Ana Cathedral, outside of which sit many statues of bronze dogs, seemingly guarding the cathedral.
It is believed the name of the Canary Islands came from the Latin name Insula Canaria, meaning Island of Dogs, and that perhaps the island was once populated by large dogs.
Las Palmas Sightseeing
Two streets over is the Canarian Museum (see elmuseocanario.com), which is an anthropological museum of the island. It shows how the first Gran Canarians were of aboriginal descent and illustrates what their lives were like, their rituals around death and so on. One room had mummies and rows upon rows of skeletons.
I even braved (my friend ran off at this one) the motion sensor lighting that went off to better show you an exhibit that left you alone with LOTS of bones, because this museum was a very unique place. It is housed in an older building, thus it was not wheelchair, or buggy, friendly – for which they were very apologetic.
Also, the entire museum and its exhibits were explained through Spanish – which should have been obvious to us, but wasn't. Bloody tourists.
Las Palmas is a bustling city, especially in the evening, with a great thoroughfare of stores open till late where everyone hangs out. We could easily have got lost in El Cortes Ingles, or Zara Home (sigh), or in one of the many tempting ice cream shops. On the last night of our holiday, we went out to nearby Playa del Ingles to find a salsa dancing bar recommended to us, called Stop in Brasil in the Kasbah centre.
Playa del Ingles
Playa del Ingles doesn't start going until after midnight, if not 2am or 3am. We arrived at 11pm (being old farts, we worried we would fall asleep if we didn't leave our hotel room soon). Everywhere we went, we were met by young people who earn their living trying to get you into bars & clubs for which they will receive a tiny commission.
Feeling full of our holiday good cheer, we surrendered to their hustles, enjoyed chatting to them, let them take us to a few dodgy (singing) karaoke bars and had a lot of fun. When the clock struck midnight we headed to Stop in Brazil. Here the salsa dancing, unlike any I had seen before, was in full swing.
After all, nothing can beat a fantastic night of fine mojitos and killer dancing to shake up the middle-aged doldrums – or to make you feel like you have had a really good holiday.
Getting there
Constance travelled to Maspalomas, Gran Canaria, with Sunway (01 2311800; www.sunway.ie), staying seven nights in the five-star Seaside Palm Beach Hotel on a half-board basis.
Package holidays start from €999pp, including flights, seven nights hotel on a B&B basis, transfers, 20kg baggage allowance and the services of a Sunway representative. Prices are based on September departures, with the option to upgrade to half-board available at a supplement. Offers valid at time of publishing.
Credit: Constance Harris, Sunday Independent Living
Date Issued:  23-May-2016