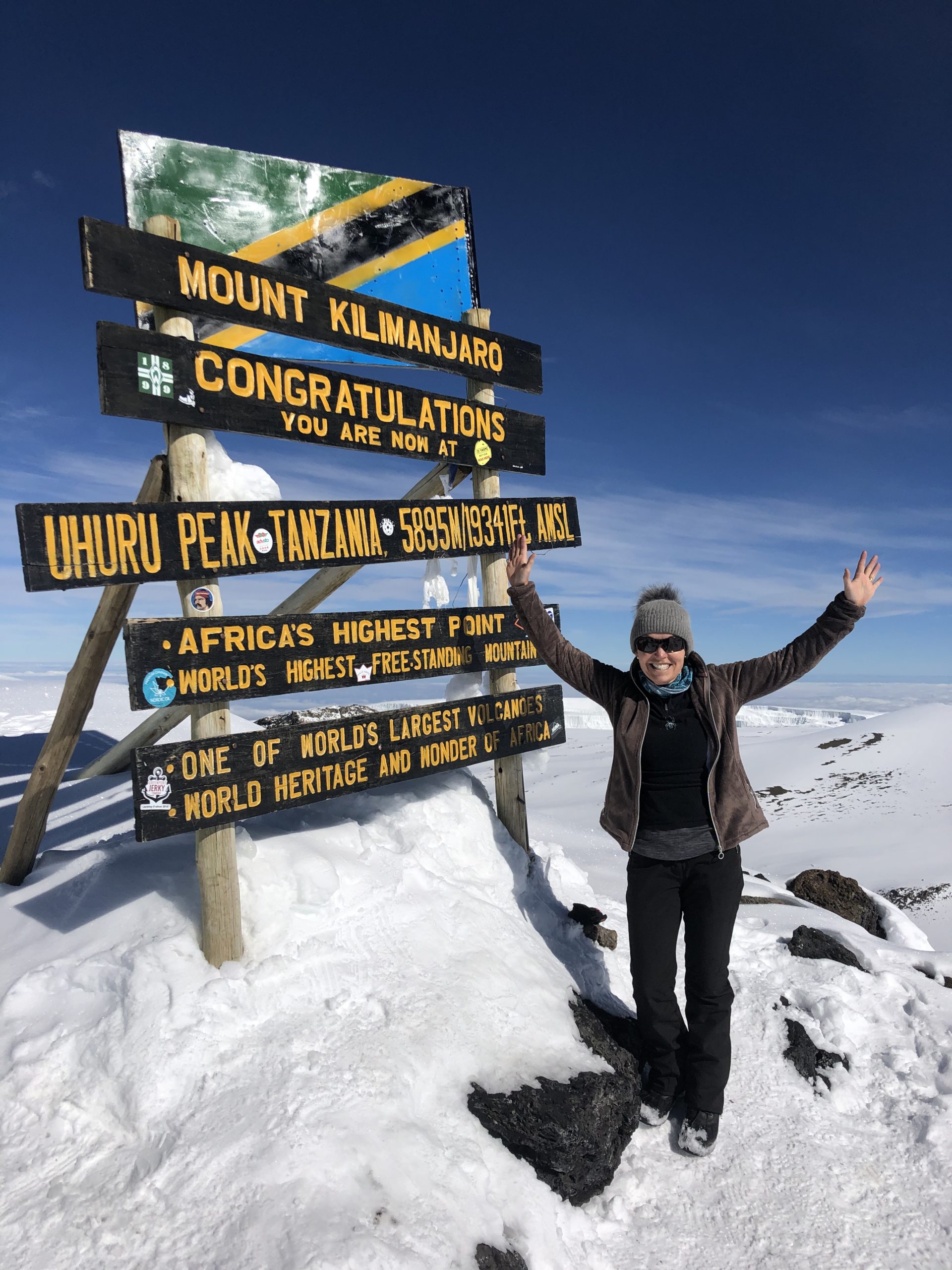 26 Feb Mount Kilimanjaro Trek – Adventure Tour
An invitation to join a charity trip to Kilimanjaro was the push Tanya Airey needed to get our of her comfort zone. What followed was one of the most rewarding challenges of her life.
Mount Kilimanjaro
Scaling the Summit on the Roof of Africa…
Despite being in the travel business for years, adventure travel has never really appealed to me. Climbing Kilimanjaro sounded beyond my skills and comfort zone. It took my husband, Philip and a charity initiative to persuade me to go. And am I glad I did. I literally saw sunrise on the roof of Africa, hiked through the rainforest, had fun and challenges with people I never met before who I now consider friends, and all with experienced climbing experts so I felt safe and looked after.
When I was asked by one of Sunway's brands, G Adventures, just ten weeks earlier if I would consider joining their first 'G Trek For Good' hike, my instant reaction was a categorical 'no'. While I do enjoy walking Dun Laoghaire Pier and Killiney Hill, I was well aware that Kilimanjaro was high on pro-hikers' tick lists for a reason. Throw in the additional issue of camping, something I have spent my entire life actively avoiding, and I was sure this trip was not for me. Why someone would want to spend the night sleeping under a piece of canvas was completely beyond me. But, after a couple of nights mulling over the idea with my husband, who is a big fan of adventure travel, telling me what a great experience it would be, I found myself beginning to warm to the idea. The purpose of the trip was to raise enough money to support a number of new community projects around the world. Having enjoyed an incredible career in travel, I felt compelled to help give back to local communities in some of the destinations our clients visit, so they could also benefit from this amazing industry. So, nervously, I agreed.
Ten weeks, eight hikes in the Irish countryside, lots of fundraising, countless sleepless nights and three visits to outdoor clothing shops later, I boarded a plane and set off for Tanzania. Our group was made up of eleven travel professionals from across the industry in the UK and Ireland. We were all ages and fitness levels – you don't need to be super fit to do this trek. You have a great support team and this combined with some preparation, plenty of spirit and determination makes it work.
With seven different route options, ranging from five to nine, we had chosen the eight day Machame route due to its acclimatisation time and higher success rate. This saw us hiking for six days with the first and last days being reserved for arrival and departure from Moshi, the main town below Kilimanjaro. We arrived at the Stella Maris hotel, where we were greeted by the hotel's vivacious manager, Teddy, who hugged us all as if we were long lost friends. We were briefed by our guides –  four experienced G Adventures CEOs, or Chief Experience Officers, Brunno, Sam, Gipson and Gerrard, who collectively had summitted the peak multiple times. They talked us through the route in fine detail, and highlighted what we could face on the mountain, from varying terrains and weather conditions, to the worst symptoms of altitude sickness closer to the top. Nerves were at an all-time high and I was strangely thankful for the long flight that day, which meant I was tired enough to sleep, despite my whirring thoughts. I was thinking too that this day, 25 years earlier, I had been in labour with our daughter and wondered which would be the more difficult challenge.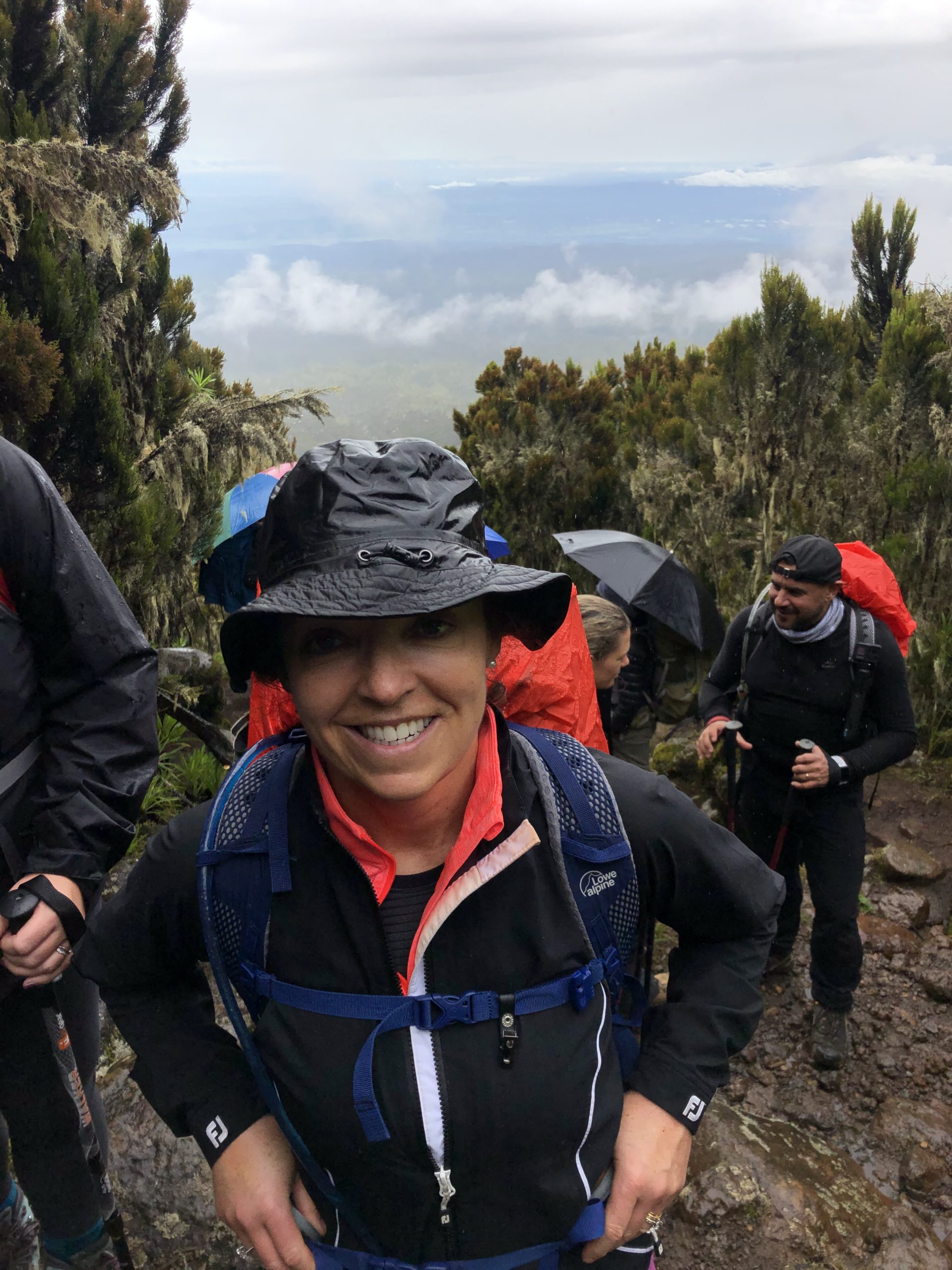 A 6am wake up call, followed by a hearty breakfast, and we were waved off by Teddy and the team. Our bags had been weighed to ensure we were all beneath the allocated 15kg allowance, which G Adventures enforces as part of the Kilimanjaro Porters Assistance Project, ensuring none of their porters carries over this amount. Panic packing had set in for many, and the group shared insights into what they had or hadn't brought, from hand warmers to she-wees. One member of the team had managed to squirrel in eight bars of large Cadbury's Dairy Milk to fuel the climb!.
As we arrived at the Machame gates, we were greeted with our porters and team leaders singing and dancing to a traditional Kilimanjaro welcome song – something we would hear multiple times a day and has a habit of sticking in your head for hours. At 1,800 metres, the Machame gate was our starting point and, from here, we set off on foot for the adventure ahead. Five hours of walking through the rainforest, the group took the time to get to know one another. Excitement peaked at one point as we spotted four large Colobus monkeys, that boast giant feather duster-style tails. Around 3pm the rain set in and everyone donned their fresh-from-the-shop waterproofs to keep dry. Despite being tired, my first night in a tent, combined with the hammering rain and the snores from a nearby neighbour made sleep impossible.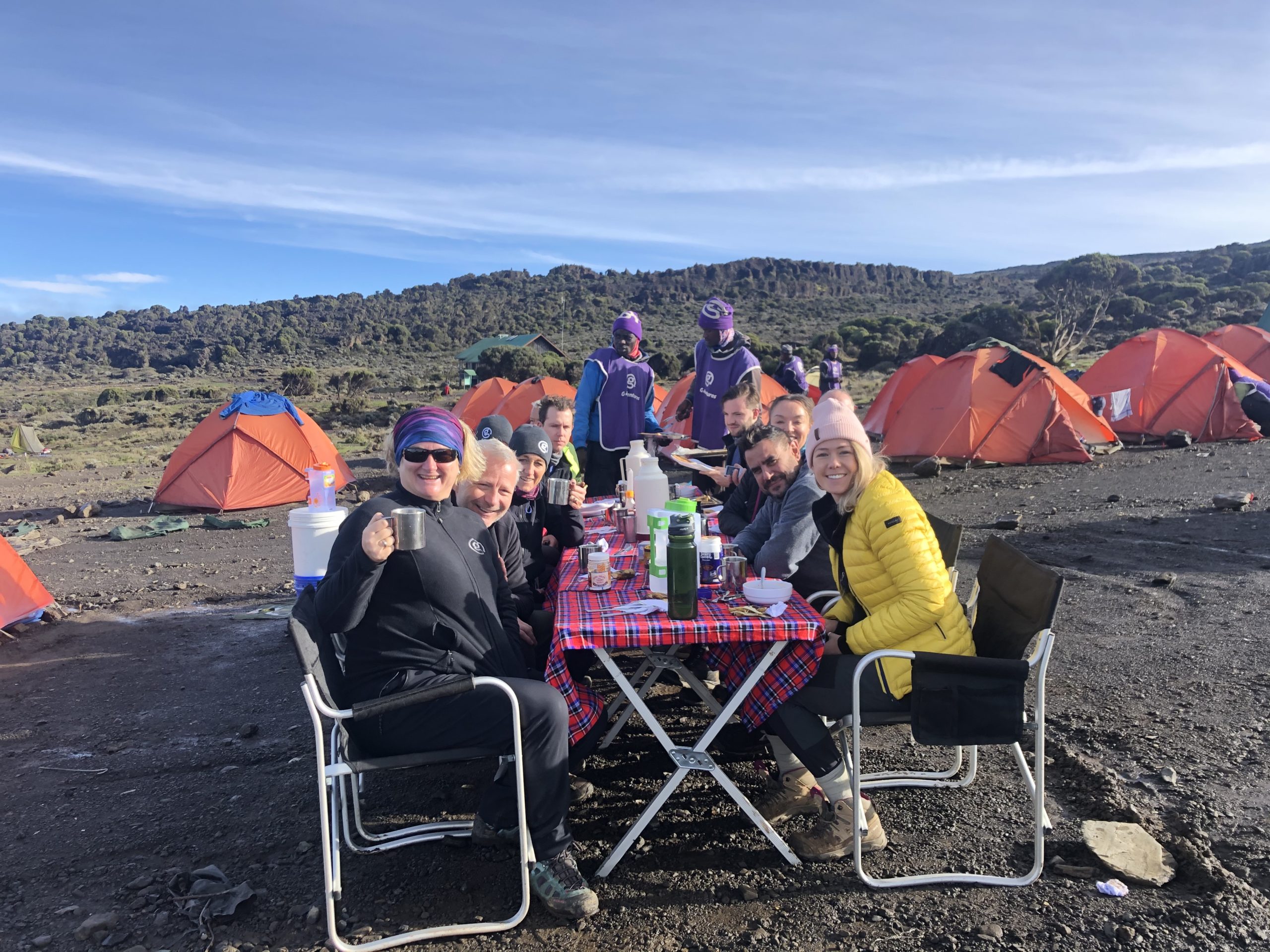 We soon got into the swing of mountain life, which saw the group rising early, feasting on breakfasts of eggs, toast, porridge and fruit before setting off for the morning hike. Lunches and dinners included the most amazing array of soups such as carrot, potato and corn, which warmed cold fingers and offered a great morale boost. Carb-lovers had a field day with main courses of pasta, mashed potato and rice being accompanied by fresh stews, fried fish and meat sauces, all made by our group chef, or our 'stomach engineer' as the CEOs called him. In the evenings, the CEOs checked in with the group to see how everyone was feeling, measuring heart rates and oxygen levels in a bid to spot early signs of altitude sickness. This became quite the competition, with the group eagerly peering over the little monitor to see who was faring the best as the oxygen levels decreased.
Day three of the trek was designed to help with altitude acclimatisation, seeing the group head up to the Lava Tower at 4,600m, before descending back to 3,110 metres for the night. Here, we started to see the onset of altitude sickness, with many in the group feeling as though they had woken up after a heavy night on the town. We also got our first glimpse of the summit, which had been elusively hiding behind a sheet of cloud up until this point. As we all looked at the towering peak, impressive with the sun gleaming on the snow-capped summit, the enormity of the task in hand really hit home. Anxiety around the summit night was rising, as were the nerves amongst vertigo-sufferers in the group, as we were set to face the 'Baranco Wall' – an hour-long scramble up a steep rockface, home to the famous 'Kissing Rock', which you shimmy past so closely that you can plant a peck on the rockface.
But the anxiety was being combatted with group morale. The long days, hours of random conversation time, challenges, or perhaps the fact that we all shared a portable toilet, had brought the group closer. When one was struggling, we rallied together to encourage and support – something we would need if we were to make it to the summit.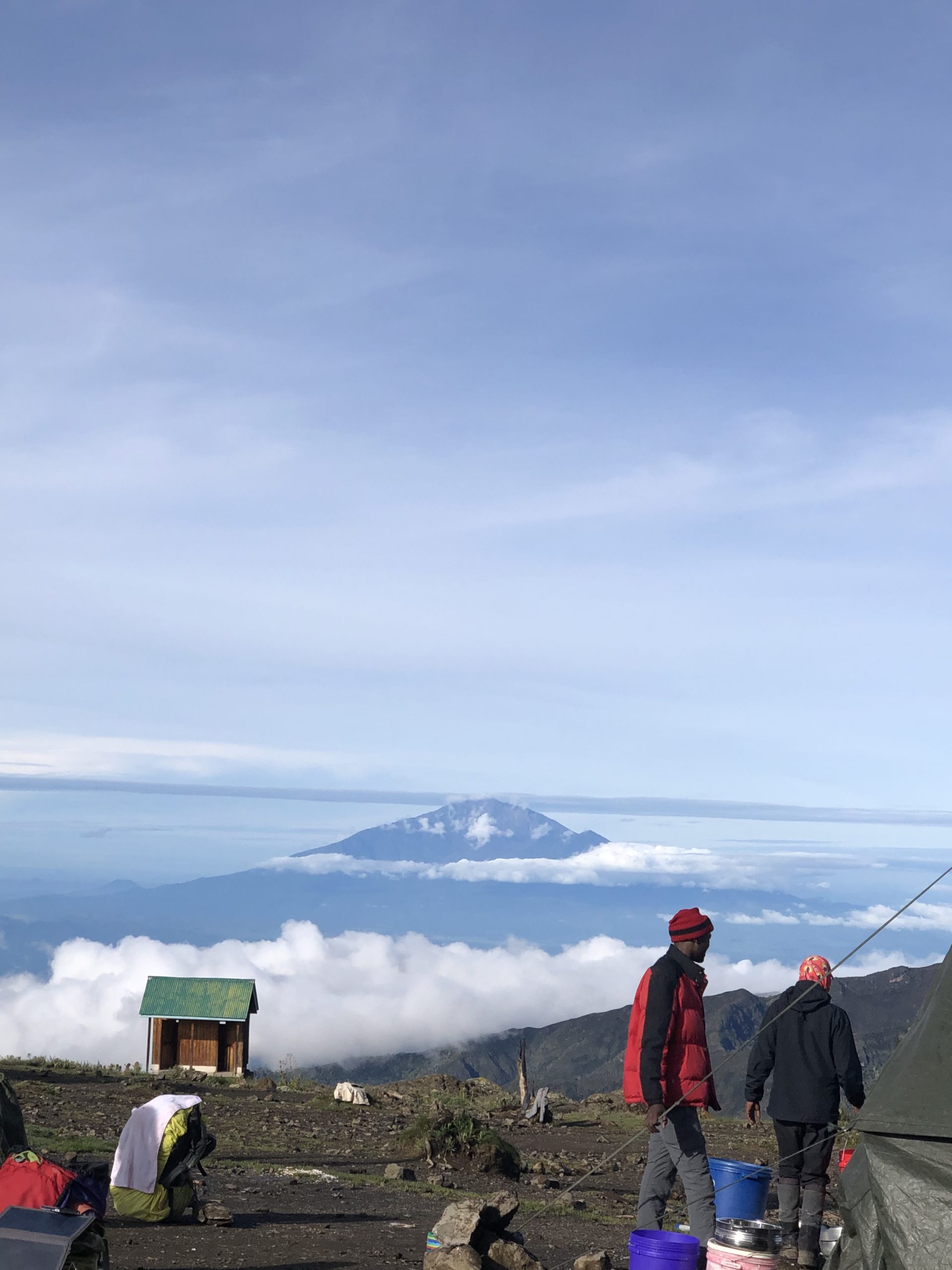 Having arrived into the basecamp on the evening of day four, we ate quickly before listening to our final briefing from Brunno, who would be leading the evening climb. The group was matched one-to-one with a CEO or porter, should any of us need to turn back. 'If the mind is willing, the body will adapt,' Brunno told the group. 'Remember why you are doing this, you are helping to change lives'. Too nervous to sleep, I tossed and turned, as did many of the group, before getting up at 11pm to begin our night time climb. Armed with a head torch, snacks and so many layers I looked like the Michelin Man, I took a moment to stop and look up, blown away by the thick blanket of stars that peppered the African sky. This was it. This is what we had been waiting for.
Just as much of a mental challenge as a physical one, the summit night saw us trudging in line, like a slow-moving caterpillar, up the snow-covered mountain in the dark for one hour spurts at a time. In the breaks the team served up hot ginger tea for those who were feeling nauseous or cold, while others passed around jelly babies, protein balls and wine gums. The Dairy Milk was passed round to help keep energy levels up. When silence fell and the group were too tired or breathless to talk, the team of G Fighters and CEOs sang in Swahili songs of encouragement. I heard my name amongst the lyrics and felt a lump rise in my throat, my emotions brimming. As exhaustion set in around 4am, we were saved by the sun, which poked its head above the clouds beneath us and lit up the mountain, offering the morale boost we were all looking for. Another two long hours, with Brunno shouting encouragement and the other CEOs taking some of the group under the arm to help them, we made it to Stella Point, where we took a quick photo before the final hour-long push along the ridge of the mountain to Uhuru Peak. The last ten minutes felt like an eternity, as the snow seemed to go on forever. Members of the group were wobbling with the altitude, desperately pushing on to reach the top. And then we were there. There were tears, smiles, laughter and elation amongst the group as we took a photo in front of the sign and looked out across Africa from its highest point, firm in the knowledge that this was undoubtedly the hardest but most incredible thing any of us had ever done.
As we made our way back down on the final day, spirits were high at the thought of hot showers, dry socks and a well-earned beer. On the road back to the gate, a passing truck asked if we needed a lift along the final stretch. Thinking back to our wishes of helicopter transfers, we looked at each other, smiled, and declined. We were going to finish what we started together.
Follow Tanya Airey's footsteps by trekking Mount Kilimanjaro as follows –
If you are a Company, Charity, School, University, Sports Club or a bunch of friends up for an adventure or to raise money, you can book a group trip. You can join an existing group or make up a group. Further information and booking details are available by calling (01) 236 6800.
Individual trips are as follows –
https://www.sunway.ie/adventure/tour-holidays/africa/mt-kilimanjaro-trek-machame-route-(8-days)/
Mt Kilmanjaro Trek – 8 days – dept 30th May
Price from €2355pps includes return flights from Dublin, 6-day guided group trek up Mt Kilimanjaro 's Machame Route with local guides, cooks and porters. All permits and fees. All transport between destinations and to/from included activities. 7 breakfasts, 6 lunches and 5 dinners, 2 nights hotels and 5 nights full service alpine camping twin share basis. Price does not include visa, pre/post nights and airport transfers. Average group size 10. Price includes saving of €420pp valid till 28th February 2020. Subject to availability and change. Other itineraries and dates available.
Sunway are agents for G Adventures in Ireland. Contact Sunway on all 01-2366800 or visit www.sunway.ie.
Sunway offers a range of adventure holidays, including Machu Picchu from €2229pp
Inca Discover 8 day tour from Lima to Cusco
Inca Discovery Fly to Lima and return from Cusco. Depart 24th September 2020 from €2229pps. Price includes return flights ex Dublin, 20kg bag per person,  taxes,  7 night's accommodation twin share, some meals, local transport including flight, train and private van, Inca trail permit, guide, porters and quality equipment.   Price does not include pre /post nights or airport transfers  Other dates available.   Subject to availability and change.
https://www.sunway.ie/adventure/tour-holidays/south-america/inca-discovery/