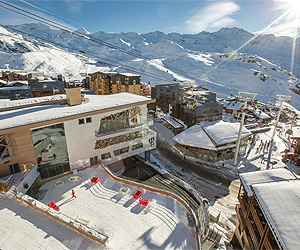 17 Apr Val Thorens, France – Slippery slope into the high life
Sophie White hits the slopes of Val Thorens with Club Med, and finds a new taste for luxury…
I am officially ruined for life. No other holiday will ever be good enough now that I have experienced Club Med.
This is particularly unfortunate as, prior to arriving at Val Thorens Sensations, a plush Club Med resort high in the French Alps, I had believed myself to be a hardy buck. Accustomed to 'slumming it' and always on the quest for the off-grid, authentic experience of any holiday destination. Post-Club Med,  however, I sense my new-found taste for luxury and manservants will be hard to shake.
The biggest attraction of the Club Med holiday has to be the complete lack of need for any thinking for oneself. From arrival at the airport to reaching your hotel, or Village as it's called in Club Med parlance, the level of hand-holding on offer is frankly a delight.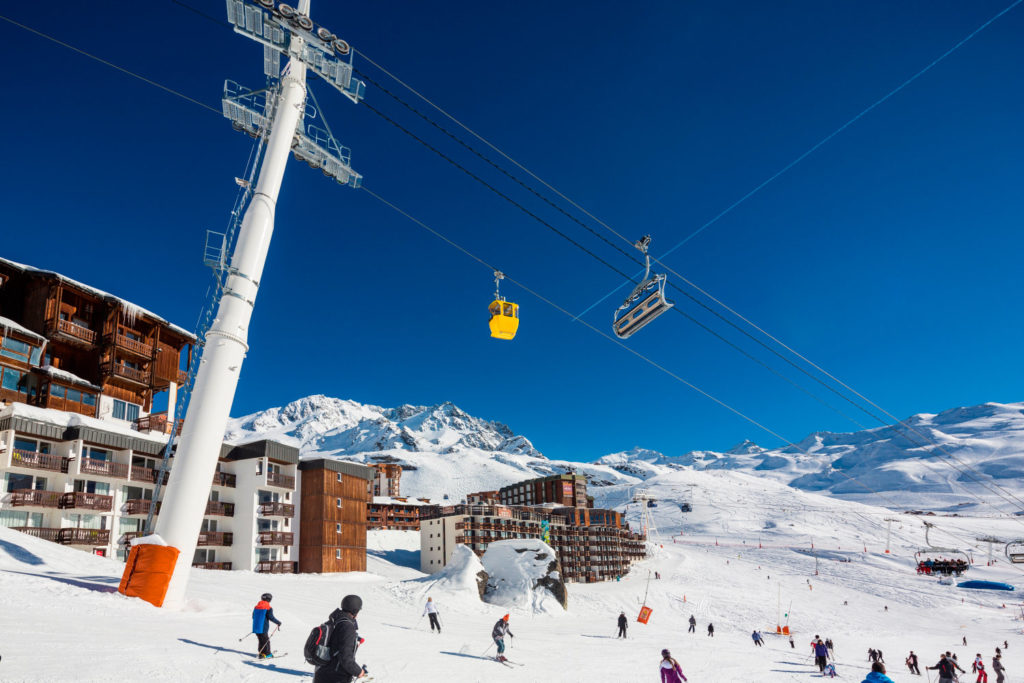 The town of Val Thorens, surrounded by snow-capped peaks
Most of us find – in a very First World problem-type way – the very act of taking a holiday can be a source of stress in our hyperbusy, always plugged-in daily lives. We're so used to personal admin and the persistant pinging of the inbox updating, and staying on top of deadlines, headlines and bottom lines, that handing over the reins while on a vacation like Club Med initially feels completely alien, and then quite rapidly becomes the most relaxing getaway of your life.
The Club Med vibe of all-inclusive, all-sorted-out-for-you, all-taken-care-of package is a particularly attractive prospect when it comes to the winter holiday. A ski holiday is my absolute favourite type of holiday, with its emphasis on fun in the mountains, carb-loading and hot booze, but it's also a holiday that comes inbuilt with a fair amount of faff. Ski fans know this and we accept this.
The first day of a ski holiday is most often spent trudging around organising equipment hire and ski lessons, usually in hard-to-find shops, conveniently located on opposite ends of the resort.
On day one of the average ski trip, once we're finished navigating the complex ski runs, getting lost, getting cold and losing gloves, then there's the irksome business of storing cumbersome boots and skis back at the chalet or hotel. Boot rooms are not usually the most comfortable of places to kick off a luxury break. Or at least this was what I had always believed, until I was introduced to the ways of the Club Med ski holiday, of course.
On arrival at Val Thorens Village, we were greeted warmly by staff and led to a boot room that was frankly fancier than any hotel I have ever stayed in. A cheery, weathered French ski technician came over to me and asked what equipment I'd like for the week.
I enjoyed a Nespresso coffee and a pastry from a snack station that occupied one corner of the boot room while I was measured for a board and boots. The ski fairy then led me to my own personal equipment locker complete with boot-warmers to ensure my gear would always be toasty and dry. He then showed me the door that leads directly onto a gently sloping green run, down which I could slide to the nearest ski lift.
For someone who has done a lot of lugging of skis and boards up and down steel stairs while wearing ski boots across Europe, the ski-in ski-out thing offered by piste-side resorts like Club Med Val Thorens was mind-blowing. It was the ski equivalent of Charlie first spotting the waterfall of chocolate in Willy Wonka's Factory. As I said, I'm ruined for life now.
The first evening on an average ski holiday is usually attended by a lot of excitement and more than a little trepidation. Everyone is fretting about the weather and their ski legs and if they'll be able to find their ski lesson in the morning.
The first evening on a Club Med ski holiday is quite a different story. Happy hour starts from 5pm, wine, beer and cocktails flow from the bar, while bar snacks, a crepe station – yes really! – and cheeseboards abound for guests to nibble on as they mingle. It's incredible, you barely have to articulate a need to yourself before a delightful GO – Gentils Organisateurs, as Club Med staff are called – appears as if by magic by your side proffering whatever little delicacy is missing from your life. Meanwhile, the ski instructors are on hand to answer all logistical questions regarding the plan for the week's skiing.
Ski lessons for all levels are available every day, instructors can advise what the appropriate group for you is, based on your experience and the style of skiing or boarding you want to focus on. The instructor for my snowboarding group was a particularly craggy, leathery old fella in his early 70s. He looked like he'd been roughly hewn from the rock of the mountains where he'd lived all his life. What you want to do on the board then?" he asked me, looking me up and down, not bothering to conceal his obvious scepticism – I'd signed up for the expert snowboarders lesson.
"Freestyle. But what age are you?" I returned fairly brazenly, this seemed to crack him. "Oh ho ho, we have ze freestyler, we have a trickster here," he proceeded to laugh his ass off at my high opinion of myself. It wouldn't be the first laugh I'd give him that week as he showed me how to ride switch (the snowboarding equivalent of skiing backwards), spin and hop up off little jumps on my board. Let's just say the extra cushion on my ass from the nightly feasting in the restaurant was put to good use over the course of the holiday.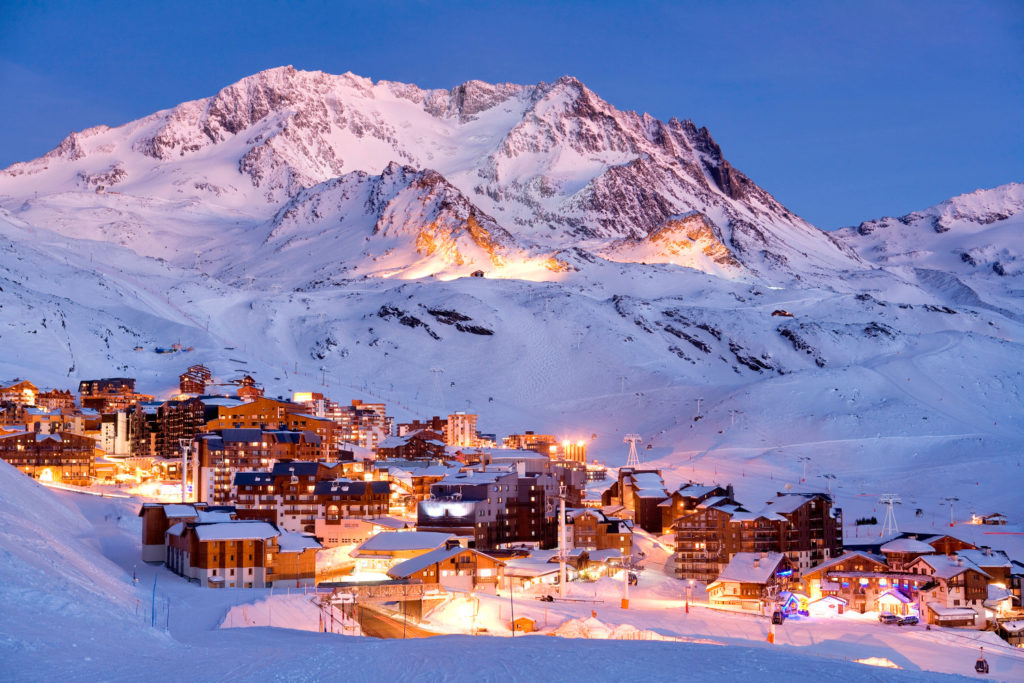 The ski area at Les Trois Vallees (The Three Valleys)
Winding down back at the Village each night was balm to my sore bum. The communal spaces of the resort are an endless conveyor belt of delicious snacks and beverages and helpful GOs to parlay them right to your face.
The main bar has a retro futuristic vibe with white leather sofas to lounge on and an elaborately designed lighting system, meaning the whole space transforms from relaxing retreat during the day to a nightclub at night. An outdoor terrace offers a panoramic view of the valleys and peaks of this huge resort, and also boasts an outdoor hot tub from which one can practically high five skiers on passing chair lifts.
The scale of Val Thorens is breathtaking. The resort is part of Les Trois Vallees, the largest linked ski area in the world, comprising an estimated 600 kilometres of pisted runs. Val Thorens is the highest resort in Europe, overlooked by six glaciers, and with virtually all of the ski area situated above 2000m. It is known for excellent early season skiing and a long season with practically guaranteed snow conditions on the largely North-facing slopes.
With miles and miles of vertical descent, snowparks for freestyle enthusiasts and a vast off-piste playground for advanced riders and skiers, the resort is a pleasure to ski. It is the largest in France, and yet manages to retain its village feel in the gingerbread streets of bars and artisan shops that wend around the larger hotels and apartments.
I learn that first night that when you go Club Med, you go Club Med. All your food and drinks are a part of your package, you socialise together with the GOs in the nightclub – the famous themed Club Med nights are quite fascinating, and fun, just check any cynicism at the door. The Village has three restaurants to choose from including The Epicurious, run by the resort's Michelin-starred chef, a bar and a lounge with live music, a spa, a gym, a teenagers' games area; and there's even a vertigo-inducing climbing wall that spans four floors of the building.
In short, you don't leave Club Med once you're in. Before arriving, I couldn't help but feel there was something a shade cultish about the whole thing. I had some sort of inverted snobbery from my days of visiting ski resorts as a broke ski bum (as we're called in Europe's resorts), sleeping in my car and usually finding myself frozen in by morning.
However, once you drink the Club Med Kool-aid, believe me you cannot get enough of it. Everything about the place just runs so smoothly. There is no detail, no niche diva-esque need left untended.
I noticed that the downside to this was that I started to see things through Club Med-tinted glasses. Upon entering a restaurant outside of the Club Med resort I couldn't help but think "ewwwww harsh lighting". When lost on the slopes, I found myself genuinely baffled as to why a cheerful slave wasn't materialising to carry me back to Club Med.
With all these upstairs-downstairs vibes, I confess I was amazed at how genuinely happy all the staff of the resort seemed. The GOs were always ready for a bit of partying. In my years working in ski resorts I had had a healthy irritation with clients. Sure, I worked for plenty of fab people over that time but it still didn't mean I wanted to party with them during Apres. In fact, the Apres at Club Med is something of a misnomer. Here, the Apres goes on pretty much round the clock. Choons are cheerily bangin' in the ski equipment room from when you collect your skis in the morning. Upon returning from the morning's ski, you are greeted by a terrace party in full swing. You literally unbind from your skis or board and are immediately offered vin chaud, juices or beers and a morsel – or 10 – of foie gras and all this before lunch. A mini meal before lunch? I could stay here forever.
For breakfast lunch and dinner most days we hit the Village's main restaurant which is buffet style, though not as we know it. The buffet is a sight to behold. There is a salad station a mile long, a cheese station basically the same size and every bit as well stocked as Sheridan's. Desserts of every variety imaginable stretch as far as the eye can see. Chefs cook steaks, pizzas, pasta and fish to order before your eyes. The food is divine.
Buffet anxiety is a very real phenomenon among the Irish when presented with unlimited food, but on a Club Med ski holiday there is no need to fear judgement when making your multiple trips to and from the bakery or tartiflette tray. Skiers need hearty meals as we burn so many calories out on the slopes – or at least that's what we tell ourselves. Also there is a lovely generosity about the Club Med vibe, everything from the frothy hot chocolates provided slope-side on the terrace to the cocktails at Happy Hour to the made-to-order pancakes at breakfast feels plentiful.
As the week speeds by in a flurry of sun, skiing and, frankly, savaging the buffet, I can't even bring myself to think about the inevitable return to civilian life. I've grown accustomed to the constant pandering to my every need and whim. I knew my spoilt behaviour had peaked by the second last day when I allowed the 70-year-old ski instructor to lift me as I whined petulantly to my feet after crashing spectacularly. Gorging on the Club Med lifestyle could ruin me for other holidays forever more but a little bit in moderation does one no harm.
Take three: Top attractions
Win The Buffet In Four Steps
Wait until all your co-diners have selected their dishes.
Quiz them extensively on the merits of their choices.
Go and grab everything — no need to have FOMO: at a Club Med buffet there's always round two and no shame here.
Feel totally stuffed after eating enough food for nine people but make sure to forget this sensation by the time the next meal rolls around and repeat steps 1-3.
La Folie Douce
A party up a mountain, from which you have to ski home, doesn't exactly sound like the best idea ever. And the journey home after a night in La Folie Douce, one of France's most celebrated piste-side clubs, has probably been responsible for a few broken legs in its time but they were probably worth it. La Folie Douce is a flamboyant daily festival of costumes, live music and mad-cappery at altitude above Val Thorens town.
The Epicurious, Gourmet Lounge
With a Michelin-starred chef at the helm of a restaurant located just two floors up from my bedroom, I presumed I would probably not get any skiing done during my time in Val Thorens. The food was divine, I envisioned being fork-lifted by the cheerful GOs to and from my table there, three times a day. This would likely have come to pass if social convention didn't demand that I pretend not to be a food-obsessed pig.
Getting  there
Sophie travelled with Sunway to the 4 trident Club Med Val Thorens Sensations in France. The Club Med ski resorts in France, Italy, Switzerland, China and Japan offer a full range of snow sports on the All-Inclusive Club Med formula, which includes ski-lift passes and skiing or snowboarding lessons for all ages and abilities.It's suitable for families traveling with babies, kids and teenagers, couples or solo travellers. Club Med Ski Resorts have a Ski Service® where you can rent your equipment easily.
Club Med Ski holidays start from €1569pp per adult on an all-inclusive basis in Val Thorens Sensations departing December 11 or from €1249 in Club Med Avoriaz, France, departing April 9 for seven nights including flights from Dublin, transfers, lift pass and ski/snowboard lessons, superb accommodation, gourmet food, endless snacks and drinks, children's clubs and a multitude of activities.
Call 01-2366800 or visit sunway.ie
Author: Sophie White, Sunday Independent Living
Published: 10/10/2016